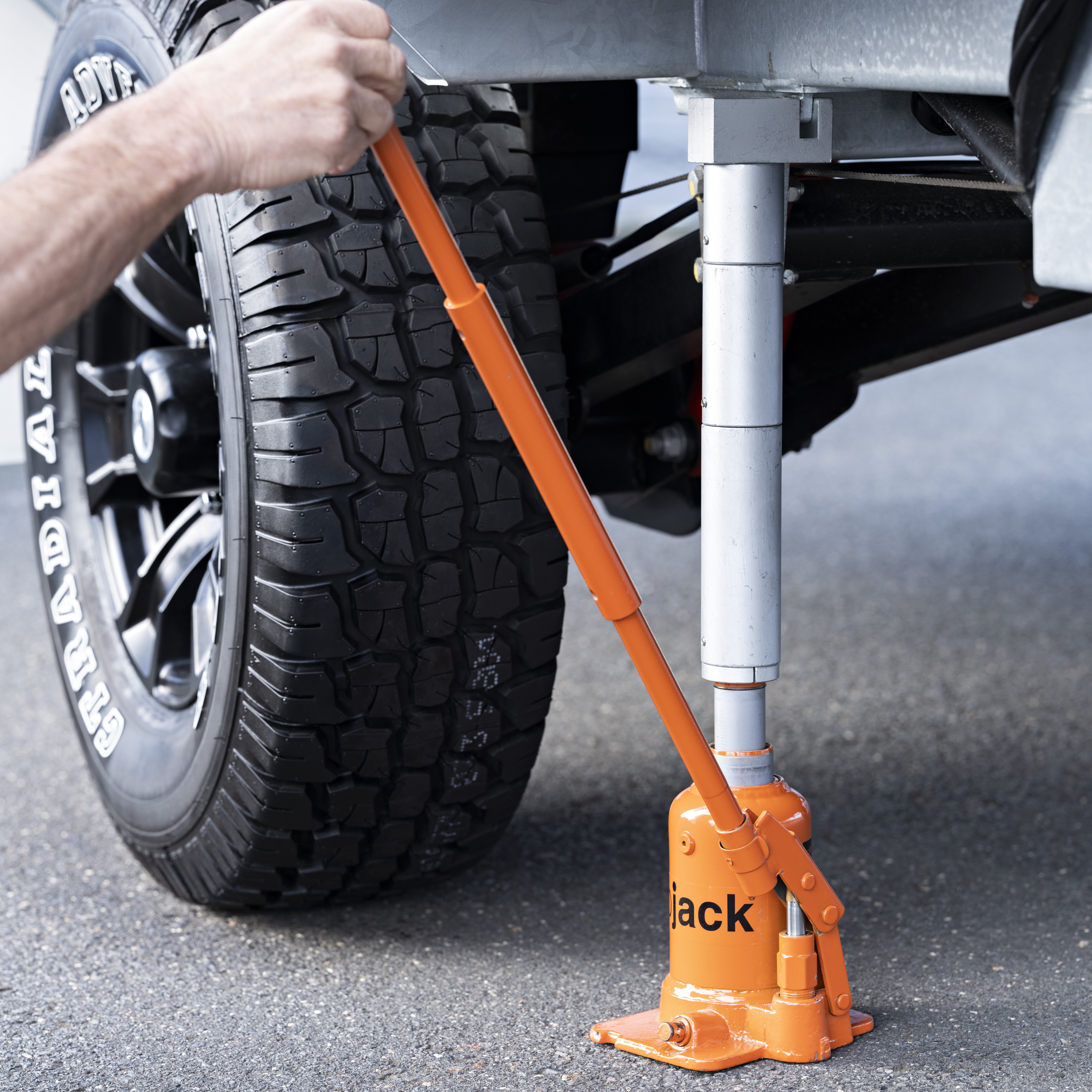 Kojack Hydraulic High Lift Jack
Kojack High Lift – The convenience of Kojack, with a little extra height!
Features
5 Piece Kit includes:
Hydraulic Jack
Two-piece collar
2x heads (Round & Square)
100mm Extension
150mm Extension for extra height
Convenient Carry Bag
$302.99 inc. GST
Kojack 'High Lift' is the Kojack, but with an additional 150mm extension for added height. The ideal hydraulic caravan jack for safe, easy lifting of even the heaviest Aussie caravans and is RVS tested and certified to Australian/New Zealand Standard AS/NZS 2693:2007.
Versatile and smooth, Kojack comes with ball and block fittings to suit most Australian caravans and mounts to the chassis, so it won't compromise jockey wheel mounts. And with a lifting range of 220mm and a massive 4-tonne capacity, it remains lightweight at just 12kgs even with all the additional fittings.
It's no surprise that Kojack is standard in all OPUS Caravans!
Read more
Have You Got Your Hydraulic High-Lift Jack from Purple Line?
Let's be honest, a jack is a staple item to take on any trip. A very effective recovery tool, it can be used to lift your 4WD or caravan, should you need to change a tyre or take a closer look at something. For an efficient, affordable hydraulic hi-lift jack in Australia , look no further than our range here at Purple Line.
When out adventuring, the last thing you want is to get a flat tyre in the middle of nowhere, unable to fix your vehicle. Just imagine the wait for a recovery truck to come and aid you. And that's if you even had a signal to call for help in the first place. With a high lift jack in your trunk, you'll be prepared for any eventuality.
Take any trip with confidence, safe in the knowledge that you have a high-quality hydraulic caravan jack that won't let you down. Whatever your next adventure entails; whether you are heading into the bush, down to the coast, up to the mountains or elsewhere, we have you covered.
High Lift Jacks – An Effective Recovery Tool
When you shop with us here at Purple Line, you are choosing high-quality jacks that won't cause you stress. Our jacks are light in weight and easy to use without compromising on performance. With convenient storage, you can place it in the trunk of your Ute or caravan alongside your other belongings.
We provide a range that is:
Versatile
When you purchase one of our high lift jacks, you are purchasing a product for life. Suitable for use on almost all caravans, our caravan jack guarantee easy lifting of even the heaviest vehicles. Use on your current caravan, a friend's or family member's vehicle or any others that you purchase in the future.
Safe for use
Safety is a focus for us here at Purple Line. All of our hydraulic high-lift jacks adhere to Australian standards as well New Zealand's and are RVS tested and certified to Standard AS/NZS 2693:2007. Rest assured that no matter what your trip has in store, your high lift jack won't give you cause for concern.
Affordable Hydraulic Hi-Lift Jacks In Australia
We believe that everyone should be able to explore the great Australian outdoors without stress. That is why we make our products so affordable. Rest assured that whatever your budget, you'll find a hydraulic high-lift jack to suit your needs.
Confidence Only A Hydraulic High Lift Jack Can Bring
Whatever life throws at you on your next adventure, make sure you are prepared with a high lift jack from Purple Line. With hydraulics that make it nearly effortless to lose, recovering your 4WD or caravan has never been easier. Whether you are staying local or heading deeper into Australia's natural landscape, never leave home without your Purple Line jack.
Browse our collection of electric caravan movers today or get in touch to discuss your requirements. Your next adventure is calling you, make sure you are prepared with our range.
Read Less